Seasonal Hiring Guide for the 2016 Holidays
Get the tools you need to hire, train, and manage seasonal workers.

Hire Top Seasonal Help
Learn how to attract and hire seasonal workers.

Optimize Oversight
Effectively manage your team of seasonal and full-time workers

Streamline Employee Onboarding
Train your seasonal workers and get them up to speed quickly.

Improve Back-of-Office Process
Get a simple guide to back-office tasks like payroll and cash flow.
Sneak Peek: What's Inside
Get the tools you need to hire, train, and manage seasonal workers.
How to hire, train, and manage during this critical time of year.
Focusing primarily on retail and QSRs, this guide walks you through how to hire solid seasonal workers, train them quickly, and manage your back-office, including payroll and cash flow.
Get useful tips for hiring and managing seasonal help.
Learn effective interview example questions for hiring, employee training strategies, and how to onboard them on their first day with our overview of the payroll process.
Square brings it all together
Linking your Square account to other trusted pieces of software you use for accounting, analytics, or inventory is simple. And we're always adding new partners.
Intuit QuickBooks
Everything you need to run your business is right here. Track sales and expenses, pay employees, and more.
Xero
Xero is beautiful online accounting software for small businesses. Sign in any time, anywhere, from any device.
Whisk
Recipe management with built-in costing, USDA nutrition, and ideal usage reports.
Fresh KDS
Fresh KDS is a tablet kitchen display system that's fully featured and dead simple to use.
The best way to pay meets the best way to sell.
We built our new chip and NFC reader so every business in the neighborhood could accept Apple Pay and chip cards—because we believe everyone deserves faster, more secure transactions.
Setting Your Business Up for Seasonal Success
Consumers spend an average of $213 per year on gift cards.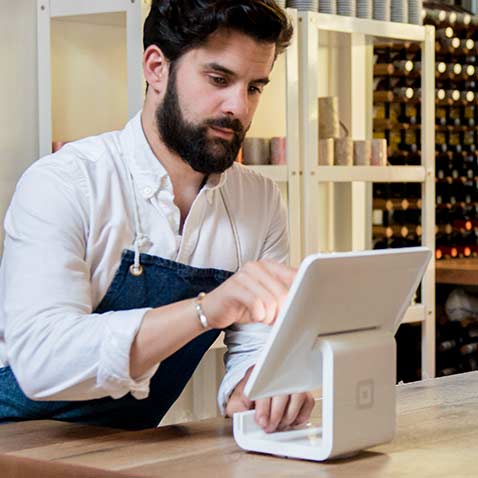 Gift cards are a great way to keep customers coming back. For friends, family, and colleagues, gift cards from Square are perfect.

Charles Bililies, Souvla
Learn more about Square and Xero.
Square brings pure mobility to your point-of-sale needs and connects perfectly with Xero. Sell wherever you like. Manage your accounting, bills, cashflow and more. And seamlessly run your whole business, beautifully.
About Square
Move your line faster by accepting Apple Pay and other NFC payments. Customers simply hold their device near the NFC reader to trigger payment.
About Xero
Xero is beautiful, easy to use online accounting software for small businesses and their advisors. The company has over 862,000 subscribers in more than 180 countries. Xero boasts more than 500 third-party integrations, and was ranked No. 1 by Forbes as the World's Most Innovative Growth Company in 2014 and 2015.
Set up in seconds.
The Square contactless and chip reader connects to your device wirelessly—all you need is a compatible iOS or Android device. It also works with Square Stand; plug it into the hardware hub for instant setup.
Getting started with the Square Contactless and Chip Reader
Tech specs
Dimensions
Height: 0.4 inches
Width: 2.6 inches
Depth: 2.6 inches
Supported devices
Compatible iOS and Android devices
Payment types
Apple Pay
Android Pay
Samsung Pay
EMV chip cards
NFC cards
Power modes
Charge the battery and connect wirelessly, or plug it into the Square Stand USB hub.
Do business anywhere with Square Register.
Square Register gives you everything you need in one free point-of-sale app. Free app updates keep you equipped with the latest point-of-sale features.
Accept payments—even without a connection.
Send receipts via email or text message, or print them out.
Collect customer feedback from digital receipts.
Print or email sales reports.
Adjust taxes, tipping, and discounts.
Manage inventory in real time.
Accept orders online for pickup in person.
Create employee logins.